eCommerce SEO Services
Start Today And Get $100/Month Off eCommerce SEO For 12 Months
14 Powerful eCommerce SEO Services For Online Stores Success
Do you want your online store to rank higher on Google and make more money without going broke? BuzFind's 14 powerful eCommerce SEO Services are for you.
In today's competitive digital landscape, a robust online presence is vital for your eCommerce business's success. You need effective eCommerce SEO services to stand out in Google search results, attract qualified leads, drive targeted free traffic to your website, and boost your sales revenue.
As a leading eCommerce SEO company, we specialize in helping small and mid-size retail business owners with limited SEO budgets achieve higher Google rankings, increase organic traffic, and ultimately boost their revenue. Our team of dedicated experts understands eCommerce websites' unique challenges and tailors our strategies to ensure maximum results within your budget.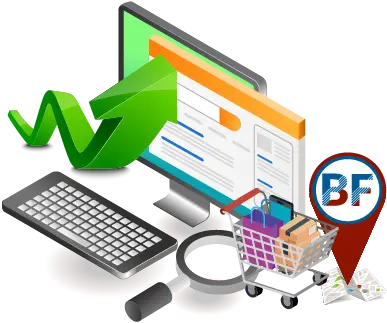 With BuzFind, you can rest assured that your eCommerce website is in capable hands. Our experienced professionals conduct in-depth keyword research and analysis to identify your niche's most relevant and high-converting keywords. We then optimize your website's on-page elements, including meta tags, headers, and content, to improve its visibility in search engine results.
But that's not all! Our retail SEO goes beyond product page SEO. We also employ proven off-page strategies to build high-quality backlinks naturally, establish your website's authority in the online marketplace, and help your eCommerce store gain the credibility it deserves, resulting in increased website traffic and higher conversion rates.
At BuzFind, we understand that every internet shop is unique and believe in providing personalized solutions tailored to your needs. Our cost-effective eCommerce SEO service ensures that you get the best return on your investment, helping your estore thrive in the competitive digital landscape.
With an eCommerce SEO agency employing a team of eCommerce marketing experts, page speed gurus, and our understanding of content and product page optimization and PageSpeed Insights, our online store clients have rated BuzFind as the most trusted eCommerce SEO company to hire in the U.S.
What Is eCommerce SEO
eCommerce SEO optimizes online stores' visibility and rankings on search engine results pages (SERPs). BuzFind's web store SEO involve implementing various strategies and techniques to attract organic traffic, increase conversions, and drive revenue for eCommerce businesses.
eCommerce marketing ensures that your web store appears prominently when potential customers search for relevant products or services. By optimizing your web store's structure, content, product pages, page speed, and other vital elements, you enhance its chances of being indexed and ranked favorably by search engines like Google.
In summary, SEO for eCommerce websites is a strategic approach to enhance your eshop's visibility, organic traffic, and revenue potential. By leveraging the power of search engines and implementing tailored SEO strategies, you can position your eCommerce websites for long-term success in the highly competitive eCommerce world.
eCommerce Sales in 2023: By Country
In the ever-expanding world of eCommerce, understanding the dynamics of global markets is crucial for Shopify store owners.
The year 2023 presents exciting opportunities for eCommerce sales across different countries.
With increasing internet penetration, improved logistics, and evolving consumer behaviors, sales from online retail stores are projected to surge worldwide.
In the United States, eCommerce continues to dominate the retail landscape, with online sales expected to reach new heights in 2023.
So if you don't get onboard and optimize your store and take a significant share of the eCommerce sales, you'll be left with insufficient crumbs for your business to survive.
Introducing BuzFind's 14 Advanced eCommerce SEO Services That Will Transform Your Online Store Without Going Broke
Ignite your eCommerce success with BuzFind's powerhouse SEO solutions. Our eCommerce experts will maximize your online shop's potential through strategic eCommerce optimization, driving higher rankings, increased organic traffic, and unbeatable conversions.
BuzFind will assign you an eCommerce SEO expert to deliver tailored services for unmatched eCommerce profitability.
Whether your web store is based on;
Magento,
BigCommerce,
Shopify,
OpenCart,
PrestaShop
We can help you promote your online retail store without breaking your wallet.
Let's reiterate: No matter what eCommerce platform your online retail store is using, your dedicated BuzFind's eCommerce consultant will deliver maximum online marketing results.
Here are the fourteen (14) advanced marketing strategies included in our retail store marketing.
1. eCommerce SEO Audit
Our emarketing experts conduct a comprehensive eCommerce SEO audit to pinpoint and resolve any underlying issues that may hinder your eCommerce website's performance.
This includes optimizing site speed, mobile-friendliness, crawlability, and overall user experience.
2. Keyword Analysis
Thorough keyword research is essential for eCommerce SEO success.
BuzFind ensures your electronic shop's content is optimized to attract targeted organic traffic and improve rankings by identifying relevant keywords with high search volume and commercial intent.
3. SEO Competitive Research
We conduct in-depth SEO competitive research to understand your competitors' eCommerce SEO strategies, identify their strengths and weaknesses, and uncover new opportunities for your online store.
By leveraging this knowledge, we develop a tailored approach to outperform your competitors and gain a competitive edge.
4. On-Page Optimization
BuzFind's retail store SEO include optimizing on-page elements such as meta tags, headers, and URLs.
By aligning these elements with targeted keywords and implementing best practices, we enhance your estore's visibility and relevance to search engines.
5. SEO For eCommerce Product Pages
BuzFind's eCommerce search engine optimization include optimizing every eCommerce product page element, product name, short and long description, and product URL.
By aligning these elements with targeted keywords and implementing best practices, we enhance your online retail store's appearance and relevance to search engines.
6. Product Image Optimization
Visual appeal plays a significant role in eCommerce, however, it won't help your product page to rank higher on Google if it takes forever to load.
Your eCommerce consultant will optimize your product images (image SEO) to assist visually impaired customers and ensure they include keyword-optimized file names, optimized alt, and title tags, and optimize the image caption and description to provide search engines with context about your product images and improve your online store's rankings on Google, enhance user experience, and attract more organic traffic.
7. Ecommerce Content Marketing
Our eCommerce content marketing strategy focuses on creating valuable, informative, and engaging content that attracts and retains customers.
With our SEO writing services, we develop compelling blog posts, product guides, and informational resources tailored to your eCommerce niche.
By consistently publishing high-quality content, we establish your brand as an industry authority, drive organic traffic, and increase customer trust.
8. Mobile SEO Optimization
With the rise of mobile usage, optimizing your eCommerce website for mobile devices is crucial. BuzFind ensures your site is mobile-friendly, responsive and delivers an exceptional customer experience across all devices.
9. Link Building and Outreach
Building high-quality backlinks is crucial for eCommerce SEO. BuzFind employs natural, effective link-building strategies and outreach techniques to secure authoritative backlinks, establishing your website as a trusted source of information and increasing its authority in the eyes of search engines.
10. Customer Experience Optimization (CEO)
BuzFind focuses on enhancing customers' experience on your retail website, improving navigation, site structure, and internal linking.
We increase the chances of conversions and repeat visits by making it easy for users to find what they're looking for.
11. Local SEO For eCommerce
If you have a physical store or serve a specific local area, BuzFind can optimize your eCommerce website for local SEO.
We ensure your business appears in relevant local search results, driving targeted traffic to your shopping store online.
12. Conversion Rate Optimization (CRO)
We analyze user behavior and conduct A/B testing to optimize your eCommerce store's conversion rates.
By making data-driven improvements to your website's layout, call-to-action buttons, product pages, and checkout process, we help maximize your chances of converting visitors into customers.
13. Tracking and Reporting
We provide detailed analytics reports, tracking the performance of your eCommerce SEO campaigns.
Our transparent reporting allows you to measure the effectiveness of our services and make data-driven decisions to further optimize your retail shop.
14. Continuous SEO Monitoring and Adaptation
SEO for eCommerce websites is ongoing.
BuzFind continuously monitors the performance of your retail website, adapting strategies as needed to stay ahead of the competition and maximize your electronic shop online's visibility and profitability.
The 11 Key Benefits of eCommerce Marketing
Let us share with you the eleven (11) key benefits of eCommerce SEO.
The importance and benefits of eCommerce marketing to promote your online retail store's ranking on Google and other major search engines are endless.
Increased Organic Traffic: eCommerce SEO boosts your online electronic store's visibility, driving targeted organic traffic to your website.
Higher Rankings: Optimizing your eCommerce website helps it climb the search engine rankings, making it more visible to potential customers.
Improved Conversion Rates: Enhanced user experience, optimized content, and strategic SEO tactics lead to higher conversion rates and increased sales.
Cost-Effective eCommerce Marketing: eCommerce marketing provides long-term results and a higher ROI than traditional marketing methods.
Competitive Edge: ECommerce optimization gives your business a competitive advantage by outranking your competitors in search engine results.
Enhanced User Experience: Retail store marketing involves optimizing your website's structure, navigation, and overall user experience, making it easy for visitors to find what they need and navigate the sales funnel seamlessly.
Brand Visibility and Authority: By appearing higher in search engine rankings, retail marketing increases brand visibility, establishes credibility, and fosters trust among potential customers.
Long-Term Results: Unlike paid advertising, an experience eCommerce marketing company provides lasting results. Once your website gains visibility and organic traffic, it generates leads and sales without ongoing advertising costs.
Leveraging Local Search: For eCommerce businesses with physical stores or serving specific local markets, local SEO strategies can drive targeted traffic to your electronic retail store, improving visibility and sales in your target area.
Adapting to Algorithm Updates: Search engine algorithms are constantly evolving. BuzFind's eCommerce SEO best practices will help your retailer website stay updated and aligned with algorithm changes, ensuring continued visibility and ranking success.
Maximizing ROI: With effective SEO services for eCommerce, you can achieve a higher return on investment by reaching a relevant audience, increasing conversions, and maximizing the profitability of your online retail business.
Our tailored eCommerce marketing will elevate your online business, increase revenue, and put you ahead of the competition. Don't miss the opportunity to take your eCommerce store to new heights with BuzFind's expertise. Call us now for a consultation!
Understanding the Importance of eCommerce product page SEO
Product page SEO plays a vital role in the success of your retail business.
When potential customers search for products related to your niche, you want your web store to appear prominently in Google search results.
By optimizing your eCommerce product page for relevant keywords, you increase the likelihood of attracting qualified leads and converting them into paying customers.
The SEO consultant we'll assign to manage your campaign understands the importance of SEO for your web store and how crucial it will be for the success of your online business.
eCommerce SEO Companies To Avoid
When seeking an eCommerce SEO company, you must be aware of the types of agencies you should avoid to ensure you make the right choice for your online web store. Beware of eCommerce companies that:
Claim to be the best eCommerce SEO company, US and abroad
Offer guaranteed SEO with overnight results or promise unrealistic outcomes
Claim to offer the best eCommerce SEO
Recommends eCommerce SEO packages: SEO packages don't work
SEO is a long-term strategy that demands continuous effort and optimization. Steer clear of eCommerce companies that engage in unethical search engine optimization practices, such as keyword stuffing, private blog network (PBN) link schemes, or content duplication. These black hat tactics can lead to penalties from search engines, damaging your website's reputation and organic rankings.
At BuzFind, we are proud to be an eCommerce SEO company prioritizing ethical and sustainable strategies. With our team of eCommerce experts, we focus on providing tailored solutions that align with search engine guidelines. We believe in the power of transparent communication, keeping you informed about the progress of your SEO campaigns every step of the way.
As a trusted eCommerce SEO agency, we are dedicated to driving long-term growth, improving visibility, and maximizing the profitability of your eCommerce store. Choose BuzFind as your partner, and together, we will navigate the ever-evolving world of SEO to ensure your eCommerce business thrives.
The 5 Traits Of An eCommerce SEO Agency
eCommerce SEO agencies and freelancers are a dime-a-dozen, so know who to hire to optimize your online business.
When selecting an eCommerce SEO agency, look for specific traits that indicate their expertise and ability to deliver exceptional results is essential.
Here are the five (5) traits of a good eCommerce SEO agency to consider.
Experience and Expertise: A reputable eCommerce company like BuzFind, will have a proven track record and extensive expertise in optimizing online stores. Their team of experts should possess in-depth knowledge of eCommerce platforms, SEO strategies, and industry trends.
Tailored Strategies: A reliable SEO agency for eCommerce stores understands that every business is unique. They will develop customized strategies that align with your specific goals, target audience, and industry, ensuring optimal results tailored to your eCommerce store's needs.
Transparency and Communication: Clear and transparent communication is vital in any successful partnership. A good eCommerce SEO company, such as BuzFind, will keep you informed about the progress of your campaigns, provide regular reports, and be available to address any questions or concerns you may have.
Ethical Practices: Look for an eCommerce SEO company that adheres to ethical SEO practices endorsed by search engines. They should prioritize white-hat techniques, improving user experience, creating valuable content, and building quality backlinks.
Proven Results: A reliable eCommerce SEO company should be able to showcase its past successes through case studies or testimonials. Look for evidence of improved search engine rankings, increased organic traffic, and substantial business growth for their clients.
BuzFind exemplifies these traits of a good eCommerce SEO company. With our extensive experience in eCommerce SEO services, tailored strategies, transparent communication, ethical practices, and a proven track record of delivering positive results, we are the ideal choice to optimize your eCommerce website.
Contact or call BuzFind today to unlock the full potential of your retail business and experience the transformative power of our eCommerce expertise.
Your dedicated SEO expert has the eCommerce marketing know-how, cultural understanding, and accountability to drive your online store's success.
Why Choose BuzFind SEO For Retailers
Choose BuzFind SEO for retailers to take your online retail store to new heights of success. Here's why you should partner with us:
√ Proven SEO Expertise: Our team of experienced eCommerce SEO specialists has a track record of driving results and helping small businesses thrive in the competitive online landscape. With our deep understanding of eCommerce platforms and cutting-edge SEO strategies, we have the expertise to elevate your online shop to its full potential.
√ Tailored SEO Solutions: We believe in the power of customized strategies. We take the time to understand your unique business needs, target audience, and goals. Our tailored eCommerce SEO solutions ensure that every aspect of your website is optimized to attract the right audience, increase visibility, and drive conversions.
√ Transparency and Communication: We value clear and transparent communication. Throughout our partnership, we keep you informed about the progress of your SEO campaigns, provide detailed reports, and are readily available to address any questions or concerns you may have. You'll always be in the loop, clearly understanding the strategies we implement and the results we achieve.
√ Ethical SEO Practices: BuzFind is committed to ethical SEO techniques and SEO best practices. We strictly adhere to industry guidelines and focus on sustainable, white-hat techniques. BuzFind's eCommerce experts aim to improve your website's visibility while ensuring a positive user experience and long-term success.
√ Measurable SEO Results: We are results-driven. Our comprehensive analytics and tracking systems allow us to measure the impact of our eCommerce SEO efforts. From increased organic traffic and higher search engine rankings to improved conversions and revenue growth, we deliver measurable results that positively impact your bottom line.
√ Availability Around the Clock: We understand that your eCommerce business operates globally. That's why BuzFind is open 24/7/365. No matter what time it is in your neck of the woods, our dedicated eCommerce specialists are available to answer all your questions, address concerns, and guide you through eCommerce.
√ In-House SEO Experts: Unlike many other eCommerce agencies that outsource their SEO campaigns overseas, BuzFind takes pride in having a team of in-house SEO experts based in the U.S.A. Our local team is well-versed in the intricacies of the American market and understands the unique challenges and opportunities you face as an online eCommerce site owner.
√ Our Clients Recommend Us: At BuzFind, we believe that the success of our clients is a true testament to our capabilities. Instead of boldly claiming to be the "best eCommerce SEO company," we let our clients speak on our behalf and recommend us. Their testimonials and success stories demonstrate the tangible results and satisfaction they've experienced working with us.
√ Quality Work Over Empty Guarantees: Unlike other agencies that offer empty promises of "guaranteed SEO services," we at BuzFind are focused on delivering quality work. We don't make grandiose claims of having a special relationship with search engines or guaranteeing overnight success. Our guarantee lies in the dedication, expertise, and meticulous work we put into optimizing your eCommerce store.
In conclusion, BuzFind eCommerce SEO services are designed to unleash the power of your online store. With our proven expertise in eCommerce SEO, tailored SEO for retailers, transparent communication, and employing eCommerce SEO best practices, we are dedicated to helping your online retail business achieve higher rankings, attract targeted customers, and attain a competitive edge over your competitors.
Together, we will navigate the dynamic world of SEO and position your online store for long-term growth and profitability. Contact us now and discover the power of BuzFind SEO services for eCommerce websites.
Let us show you how our customized eCommerce SEO services and eMarketing strategy will lead to measurable results and transform your eCommerce business.
Contact BuzFind today and speak to one of our eCommerce specialists.
Common eCommerce SEO Questions Answered
When can I see positive results from eCommerce SEO efforts?
The timeline for seeing results from eCommerce SEO efforts varies depending on different factors, such as the industry's competitiveness, the current state of your website, and the resources allocated to SEO. Generally, it takes time to build organic visibility, and noticeable results may start to appear within 3 to 6 months. However, significant improvements and higher rankings may take 6 to 12 months or longer. It's important to note that SEO is an ongoing process that requires continuous optimization and adaptation.
What are the key factors when optimizing product pages for eCommerce SEO?
Several key factors should be considered when optimizing product pages for eCommerce SEO. These include conducting thorough keyword research to target relevant search terms, optimizing product titles, descriptions, and meta tags with keywords, utilizing high-quality product images and videos, ensuring fast page loading speed, improving mobile responsiveness, and optimizing the site structure for easy navigation. User experience, keyword relevance, and technical optimizations are crucial for achieving SEO success.
Is hiring an eCommerce SEO consultant necessary?
eCommerce SEO is a complex and ever-evolving field, and it's advisable to seek professional guidance to expect the best results for your online store. Hiring an SEO agency or consultant for eCommerce SEO can be highly beneficial. SEO is a complex and ever-evolving field and requires expertise, ongoing monitoring, and staying up-to-date with algorithm changes, thus it's advisable to seek professional guidance to expect the best results for your online store.
How can eCommerce marketing help in increasing conversions and sales?
eCommerce marketing can propel targeted customers to your online store. When your product pages are optimized with relevant keywords, they are more likely to emerge in search engine results when targeted consumers search for them.
Can I do eCommerce SEO on my own?
While it's possible to do eCommerce SEO alone (DIY SEO), it can be complex and time-consuming. Hiring an experienced eCommerce SEO company like BuzFind, ensures you benefit from specialized knowledge, expertise, and dedicated resources to maximize your SEO efforts.
How much do eCommerce SEO services cost?
The cost of eCommerce SEO services varies depending on factors such as the size of your online store, your industry's competitiveness, and the SEO campaign's scope. BuzFind offers e-Marketing tailored to fit the needs and budgets of small and mid-size eCommerce businesses.
Is eCommerce marketing a one-time process?
No, eCommerce marketing is an ongoing process. Search engine algorithms and user behavior evolve, requiring continuous optimization and adaptation to maintain and improve your rankings. Regular monitoring, analysis, and updates are crucial for long-term success.
Do you offer guaranteed SEO services?
No reputable eCommerce company can offer guaranteed SEO services or top rankings in search engine results. Rankings depend on numerous factors and are influenced by competitors, search engine algorithms, and customer behavior. However, effective SEO strategies can significantly improve your retail store's visibility and organic traffic.
How do I get started with BuzFind eCommerce SEO services?
Getting started with BuzFind eCommerce SEO services is easy. Request a free SEO consultation or call BuzFind at 484-662-3084, and an eCommerce SEO expert will guide you through the process, discuss your goals and requirements, and create a customized plan to optimize your online store and drive business growth.