SEO Audit Services
Get $75 Off BuzFind Website Audit
Find and fix your website ranking issues with BuzFind SEO Audit Services
Is your website not ranking or slow, and do you need to know why? BuzFind's SEO audit services will determine what's preventing your website from achieving top Google ranking.
Every good SEO campaign must start with a website audit to help you identify your website's SEO strengths and weaknesses if you want to improve SEO and increase conversions.
Failing to audit your website before kick-starting your marketing campaign will prevent your website from ranking higher on Google, increasing website traffic and sales.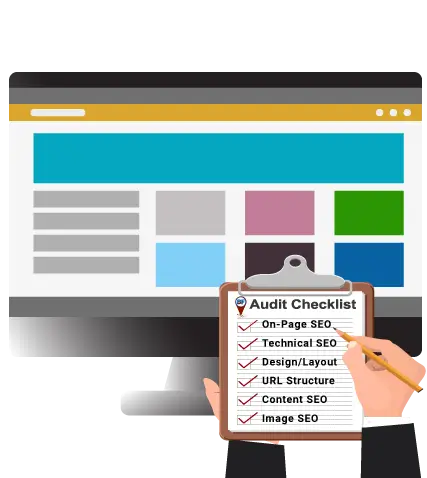 Our free website health check, which is included in BuzFind's affordable SEO, and local SEO,will give you insights as to:
Why your audience can't find your website on Google?
Why is your small business website not ranking and outranking your competition in search engine results page (SERP)?
Was your website penalized by Google?
Why your pages have a long page load time?
Why is your page not getting a boatload of free organic traffic?
Our SEO site checkup will help you overcome all these technical SEO obstacles affecting your website's page speed and ranking.
BuzFind's will check website health and share with you the opportunities to boost your small business's online visibility and achieve top SEO ranking in all major search engines.
Our SEO experts have been performing website health checks and determining why websites are not ranking higher on Google as they should for over 5 decades.
High-quality websites rank higher than low-quality ones—Google gauges websites for quality using algorithms. If your website is of poor quality, Google will push your website to go down in rankings.
You don't want Google to bury your website in the bottomless pit of its search results.
So What Is An SEO Audit?
An SEO audit is analyzing your website for SEO strengths and weaknesses and seeing how well it performs against major search engines' SEO guidelines, requirements, and requirements, and, if necessary, implementing SEO best practices to improve search ranking.
A website audit is the first step you need to take when kick-starting your SEO campaign. Doing so will increase the chances of improving your site's ranking in search engine result pages (SERPs).
Suppose you have the skills and the time to audit your website yourself. In that case, you can perform an SEO audit of your website using a free SEO audit tool, then share the site audit report with your web developer.
Your developer will need to execute the SEO recommendations on your website or page to meet what Google believes are the requirements for offering a high-quality website to your targeted audience.
SEO auditing your website will improve your site's visibility in organic search results and boost organic traffic.
Don't have the time to SEO audit your website?
No problem! An experienced SEO audit consultant from BuzFind can help.
Alternatively, you can hire an SEO audit agency, like BuzFind, to perform an enterprise SEO audit of your website for you.
BuzFind SEO audit company will present you with a full SEO audit report listing all the SEO issues and offer you practical SEO advice and essential changes to share with your developer.
Why You Need A Website Health Check?
No matter how well-designed each page is, some SEO problems could lurk under the hood without your knowledge.
That is why every business owner with an online presence should hire an SEO audit company to perform a website health check once in a while – preferably twice a year.
Your website is unlike a car informing you of a problem by making a noise.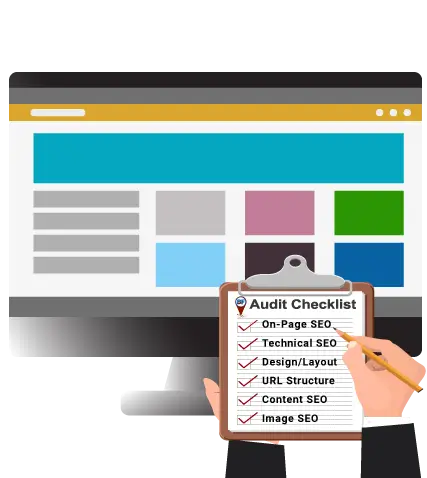 When it comes to your website's SEO issues, you can only hear them or see them if you audit the website yourself or hire an SEO audit company to look under the hood to perform a technical SEO audit of your website.
Our experienced website grader is ready to have your webpage(s) audited and reveal SEO challenges preventing your page(s) from achieving a top-ranking position on major search engines, increasing online traffic, and boosting sales.
No other SEO consulting company can offer you professional site audit services to help you improve your marketing campaign and your business's online visibility at affordable prices, as BuzFind does.
What BuzFind's SEO Site Audit Include?
Google demands that you offer the highest quality pages you possibly can to your audience. You must ensure that your website meets Google's long list of SEO requirements if you want your website to fall under Google's high-quality website umbrella.
Your reliable site auditor from BuzFind will use the best SEO audit tool for auditing your website and resolving SEO issues that could negatively impact your rankings on SERP.
Using a custom BuzFind SEO audit checklist, your reliable SEO auditor will look at the following three (3) main types of SEO audits
Technical SEO Audit
A technical SEO audit is crucial to your SEO campaign. Auditing your website for SEO issues helps Google and other major search engines:
Find your essential pages,
Crawl, understand and index your web pages,
Improve your website rankings,
Ensure your website appears above your competitors in the search engine results pages (SERPs).
Your assigned SEO audit expert will go through a custom technical SEO checklist :
1. Web Design and Usability Audit
Web design usability falls under user experience (UX). SEO is vital when designing your website; you must focus on your audience and search engines.
Good web design and the best user experience are essential to your SEO optimization campaign. That is why auditing your website design and usability is part of BuzFind website audit services.
2. Site Structure SEO
Auditing your website structure will help you gauge whether or not your website is designed and optimized to achieve your SEO marketing goals, such as ranking higher on Google and increasing free organic traffic to your website.
Website structure audit is included in our website health checker.
3. Organic Rankings
Losing traffic can devastate your business when it relies on free organic traffic. Traffic and ranking loss audit is for websites that have suffered a severe loss in ranking and traffic, possibly after Google updates. Auditing your organic position on Google and web traffic is part of BuzFind's SEO audit service.
4. Crawlability And Indexability
Search engines send their spiders (also known as robots, search engine bots, and crawlers) to find and catalogue every page on the internet. Search engine bots are fast and very efficient.
Just because you paid thousands of dollars for web design doesn't mean that search engine crawlers can easily find and index your web pages. If spiders can't crawl and read a page and follow internal links to other pages, your page's chances of appearing in search engine results pages will be slim.
BuzFind SEO auditing services include auditing your page(s) for crawl budget, rendering, and indexing.
5. Core Web Vitals
Core Web Vitals (CWV) is part of Google's "page experience" signals and will directly affect your website's SEO – search engine optimization campaign. Improving your core web vitals will significantly enhance your user experience, thus, your business visibility and website ranking.
Does failing Core Web Vitals affect your SEO?
No! If your page fails the core web vitals, it will still rank for the keywords you are targeting. However, it will impact your ranking and user experience.
Core Web Vitals assessment is part of BuzFind SEO audit services.
6. URL Canonicalization
URL canonicalization ensures that each page has one unique URL. If more than one URL shows similar content to search engine bots, search engines won't know which URL is the most important and rank it higher in their SERP.
You don't want search engines to rank both of your URLs but rank your most important page lower than your lesser significant page.
Auditing your URL is included in BuzFind's website audit checklist to ensure search engines crawl, index and rank your most important pages higher.
7. Duplicate Content
Duplicate content is when two pages have (or appear to have) similar content, thus confusing search engines and forcing them to choose which page search engines should rank in the top position of the search result page.
BuzFind's website audit service includes a duplicate content audit to ensure that search engines index and rank your most important page by eliminating the identical content issue.
8. XML Sitemap
Your XML sitemap should be audited regularly to ensure that it is up to date, contains indexable and canonical versions of URLs and is error-free. Doing so will ensure that search engines crawl and index all the essential URLs of your website.
Your assigned SEO audit consultant will examine and optimize your XML sitemap to increase the chances of ranking higher on Google.
9. Robots txt File
The 'Robots.txt' file contains directives (rules) for search engines to control what you want them to see. It is important to note that not all search engines honor the Robots.txt directives.
With a robots.txt file, you can prevent malicious bots from crawling your website, folders and files containing sensitive information that should not be made public or pages you don't want to appear in SERP.
Robots.txt auditing, included in BuzFind SEO audit services, can maximize the crawl budget if you need help getting all the pages that matter to you crawled and indexed by search engines.
10. .htaccess File
The '.htaccess' is a plain and convenient file you can use to make your pages URL SEO friendly, give directive to your web server, update your website's HTTP headers to HTTPS from HTTPS, implement 301 redirects and create custom 404 pages, IP management, and more.
Misconfiguring your .htaccess will lead to page speed issues, security problems and accessibility errors.
BuzFind's website audit service will look at your .htaccess file to ensure it is properly configured. You can use the .htaccess to redirect your audience and search engines to the essential pages you want them to see, improve page speed, thus improve Google search ranking and increase web traffic.
11. SEO Best Practices
SEO best practices are a set of SEO practices designed to improve your website's SEO. It is crucial to get the basics of SEO down first to get a higher Google ranking.
Your assigned SEO auditor will go through our custom SEO best practices checklist to pinpoint where your page is failing.
12. Page Speed
Page speed refers to how slow or fast your page takes to load, especially for your targeted audience using mobile devices.
Page speed is a direct ranking factor that affects your Google rankings and SEO campaign. Improving your page load time will lower your bounce rate and increase page dwell time.
Our page speed audit (page analysis) will list your pages' performance bottlenecks and offer recommendations you can share with your web developer to fix the problems affecting your slow page load time.
13. Broken Link Checker
Having broken links within your website will harm your SEO campaign, increase your bounce rate and destroy your conversion rates. Broken links can signal to search engines that your website needs to be updated and maintained regularly, thus negatively affecting your Google page rank.
Our website SEO audit will utilize a dead link checker to analyze every webpage for broken links. The report will have a list of dead internal and external backlinks you can share with your web developer.
14. Backlinks Analysis
Performing a backlinks analysis is one of the best ways of analyzing and understanding your website's health. You should do a backlinks analysis regularly to ensure your webpage or website has healthy backlinks (good external links) coming from high-authoritative and relevant websites.
Your assigned website auditor will use one of the best backlinks analysis tools and share the backlinks audit report with you containing essential details such as the number of backlinks, top linked pages and the referring domains.
15. Page Redirect
Page redirects refer to redirecting a page to a new URL. Redirects help keep your website accessible to your targeted audience and search engines.
When you delete a page, merge multiple pages, move a page to a new URL, or redirect from HTTP to HTTPS or www. to non-www, you must ensure that the redirects are correctly executed.
BuzFind website auditing also includes scrutinizing your website's redirects and offering recommendations to best redirect your pages.
16. Mobile-first Indexing
To make the web more mobile-friendly, Google announced Mobile-first indexing in May 2019 for websites that were previously unknown to Google search and new websites. Since then, all websites have been crawled using a smartphone agent for indexing and ranking, hence the 'mobile-first indexing' name.
Mobile-first indexing will impact your SEO effort. To ensure your website is within the 'mobile-first indexing' umbrella, you'll need to prioritize your page speed and load time and ensure that your images and other dynamic website elements are optimized for the best mobile experience possible.
Your assigned site auditor will offer recommendations to improve your website's mobile-first indexing.
17. Website UX Audit
A UX Audit (user experience audit) is the analysis of a website focusing on improving user experience. A poor website user experience will increase your site's bounce rates and result in poor or no conversion.
BuzFind user experience audit will analyze your website for problems affecting your users while browsing your website. The UX audit report will offer recommendations for improvements.
18. Web Accessibility Audit
Accessibility does matter for SEO – Search engine optimization. But unfortunately, we've seen many websites optimized by SEO companies in the US (or elsewhere) where users and accessibility were not the main focus during the web design phase and were put on the back burner.
Our SEO audit services include auditing your website for accessibility and offer recommendations for improvements such as using proper color contrast, thus improving site's user experience and ranking.
On-Page SEO Audit
On-page SEO, also known as on-site SEO, is the analysis and optimization of your web pages to boost the ranking of each page and earn free organic website traffic.
Your assigned SEO audit consultant will perform an on-page SEO audit analysis of the following on-page SEO factors.
1. Page URL
URLs are how you properly organize your website's pages/content. The URL structure you choose for the page will significantly impact your SEO and rankings.
Your SEO auditor will look at the following 10 crucial elements of on-page SEO:
Page URL structure: Is the URL short, sweet and relevant?
URLs and Numbers: Does your domain contain numbers?
Keyword: Are you using your targeted keyword properly?
SSL (Secure Sockets Layer): Are you using the secure version of the HTTP protocol (HTTPS)?
WWW v. Non-WWW Prefix: Using the 'www' in your URL is no longer essential and needs to be updated to the non-www version.
Blog posts and Dates: Do your blog post URLs contain postdates?
Lowercase URL: Are you consistently using lowercase letters in your URLs?
Hyphens v. Underscore: Are you using hyphens '-' or underscore '_'?
Stop Words: Are you using stop words (the, and, or, of, a, an, to, for, etc.)?
URL redirects: Are you redirecting old URLs properly?
2. Page Title Tag
Page title tags are essential for running a successful SEO campaign. They will affect how Google and other major search engines' algorithms understand your page content and rank it higher in their search results pages.
Writing good, relevant and enticing page titles will improve your site's visibility in search results and increase free organic website traffic.
Your SEO audit specialist will help you write good titles to entice your audience and search engines alike to click on your link in the SERPs (search engine results pages)
3. Page Meta Description
While a page meta description is no longer a ranking factor, it is essential that you write a compelling and enticing meta description to increase your click-through rates (CTR).
Our website SEO audit includes page description recommendations for improvement.
4. Header tags (Header tags – H1 – H6)
Header tags will provide good page structure and content for your post. Header tags are just like a table of content, helping visitors and search engines have a good idea of what your page is about before continuing to read the article.
The SEO audit report will analyze your H tags and offer recommendations.
5. Keywords
Keywords are keyphrases you want to target and define what your page or post is about. Key phrases are what your potential would enter as a query to find a product your sell or a service you offer.
The questions remain – Are you targeting the right keyword? Is the keyword adequately placed within your content?
6. Page Content
Page content or website copy refers to every piece of information contained within your webpage, such as images, headings, links, video, audio, etc.
While some say that 'content is King', at BuzFind, we say 'quality content is King' because it helps you acquire high-quality backlinks naturally from high-authority domains.
Having high-quality backlinks from authoritative websites will boost your credibility and trust.
7. Page Content Organization
Your page content needs to be organized in a way that is helpful to your targeted audience. You can have the best content on the internet you want.
But if that high-quality content needs to be organized properly, your visitors will go to your competitor, thus increasing your bounce rate and decreasing your page rank.
With a site audit report, you'll be able to organize your content better to increase users' dwell time and improve your SEO rank.
8. Page Anchor Text
Anchor text is the clickable text you see in every hyperlink to pages within your website or external pages.
Writing good anchor text is part of SEO best practices and matters significantly to your SEO campaign. Linking your pages with good anchor text will help Google crawl and index more pages within your website, thus increasing the chances of getting a higher ranking on Google.
Auditing your anchor text is included with BuzFind website SEO audit services, and the report will show where your anchor text is failing and offer improvements.
9. Image Auditing
Not only can images make your webpage more attractive and engaging to your visitors, but they are also crucial for your SEO campaign and give you the best opportunity for your website marketing campaign to succeed.
Our SEO image auditing will share the following details with you:
Is your image filename optimized for SEO?
Does the image you added to your page include the image dimensions?
Is your image optimized for optimal page speed?
Does your image include essential elements such as 'alt text', 'image title, 'image caption' and description?
10. Structured Data Markup
Structured data is the markup you add within the HTML of your page to help search engines — Google, Bing, and Yahoo interpret your page and better understand what your page is about.
Note that Schema.org supports JSON-LD, RDFa, and Microdata. Also, note that structured data markup is not a direct ranking signal. However, structured data can increase your click-through rates by many folds.
BuzFind technical SEO audit service report will list improvements your web developer can take to not just rank on page one of Google but also dominate page one.
11. Internal Linking Best SEO Practices
Internal links are hyperlinks that point to other web pages within your website. These internal links are not the same as external links, which point to pages outside your website.
Internal links are crucial for your SEO campaign because they help search engines find your important pages and improve your page crawlability and indexability. In short: strategically linking your pages is key to achieving higher rankings on Google.
Our website audit service report will include recommendations for improvement. Examples of such revisions are using keyword-rich anchor text, mixing up internal link anchor text so as not to look spammy, recommending which significant page(s) you should link to, how to avoid using the exact anchor text, and so on.
12. Look For Hidden Text
Google search engine defines hidden text as any hidden text or links used within your content to manipulate Google's search rankings. Google and other major search engines can flag hidden text or links as deceptive.
Many of our client's previous SEO companies and overseas SEO freelancers included a list of keywords in the form of hidden text on most web pages to try to game the system.
Your SEO audit specialist will report any of the following unethical and black hat SEO techniques were used to hide text from visitors:
Was any CSS used to position the hidden text off-screen?
Was the text font size set to 0 to avoid being seen by visitors?
Does any image include text behind it?
Off-Page SEO Checklist
Off-page SEO is vital to the success of your search engine optimization campaign but offers the most challenging tasks. You need to audit your off-page SEO elements and ensure your website meets the following off-page SEO checklist guidelines if you want your website to achieve a top-ranking position in search results.
Locate and fix your 404 errors,
Enhance your internal links,
Study your competitors' backlinks profiles,
Optimize and update your Google business profile,
Assess your backlinks profile
Optimize your site's on-page SEO
Evaluate your link-building strategies
Replace your competitors' broken links with your links on relevant and authoritative websites,
Share your knowledge on blogs, LinkedIn, Facebook, Reddit, etc.
Armed with a full SEO audit services report, your BuzFind SEO audit consultant will provide directions, a roadmap to resolve on-page and technical SEO issues, and recommendations to improve your website ranking in search engine results pages (SERPs.)
Get $75 Off Our SEO Audit Services
Start an SEO site checkup with a $75 Off SEO audit and find out what is stopping your website from achieving top Google rankings.
BuzFind will assign an experienced SEO grader and, using the best SEO audit tool, will get under the hood and perform a thorough website audit.
Once the technical audit is complete, the site audit report will present a full SEO status report with recommendations you can implement to improve your Google ranking.
If your website is not in the top position in search results and not generating free website traffic (organic traffic), then our SEO website analysis, with the help of our detailed SEO audit report, will help you;
Find search engine SEO issues preventing your page from achieving the #1 position on Google and outranking your competitors on other major search engines such as Bing and Yahoo.
Our website audit service report will offer suggestions and recommendations to improve your site's SEO optimization and performance in search engine results pages (SERPs).
However, if your;
The website is ranking but is not bringing high and relevant website traffic, or
Potential customers are not staying long enough on your page,
Or if your page is taking forever to load.
In summary,
If your website is not ranking for any reason, our website SEO analysis will help you overcome all these ranking obstacles affecting your website's page ranking on search engines.
In addition, BuzFind SEO site audit will give you opportunities to boost your online visibility and achieve top SEO ranking in all major search engines.
Our site audits have been helping website owners find out why they couldn't achieve position 1 of Google and outrank their competition. The site audit report helped them find and fix their website's SEO issues and improve their search engine visibility.
Want to find out what's preventing your website from ranking higher on Google, eliminate all the SEO issues under your control and outrank your competition in search engine results page?
Your SEO Audit Questions Answered
What are SEO audit services?
SEO audit services are provided by an SEO company or a freelancer to help you inspect your website for any issues or problems preventing your website from achieving high rankings on Google and other major search engines.
How much does and SEO audit cost?
The SEO audit cost will vary between $650 and $15,000 depending on the type and complexity of your website.
Is an SEO audit worth it?
Short answer, Yes! Every SEO campaign should begin with auditing your website to evaluate its performance in search engine results. Performing a website audit regularly (at least 3 or 3 times a year) will help you identify areas where your SEO techniques are effective, and where you need to further tweak your SEO.
What is the best SEO audit Tool?
With many paid and free SEO tools available to choose from, we know selecting the right tool can be difficult. However, BuzFind SEO experts recommend Semrush, and Ahrefs SEO tools. For free SEO tools, check out Search Engine Journal's '17 Free SEO Tools For Site Audits' article.
Do you offer Free website audit?
A free website audit is included with BuzFind's affordable SEO.
Let BuzFind's SEO Auditing Rank Your Website On Google
Our SEO audit service can pinpoint problems affecting your search engine and provide you with actions to improve your website's online visibility.
Start auditing your website today and $75 Off.